We focus on projects which firmly embed "triple bottom line" principles as a core part of our real estate investment strategy and decision-making process. What distinguishes us is a proactive intent to deploy capital that generates risk-adjusted market-rate returns while creating social or environmental value, or both. We take our work and our play seriously. We live in the Pacific Northwest by choice.
Molly McCabe, CEO & Founder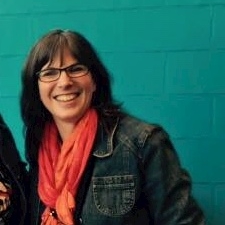 A veteran of the Real Estate Industry, Molly describes herself as a Scout, MapMakerand BridgeBuilder. Like the rest of the team, you can often find her hanging out with her Social Media Team someplace outside.
Molly founded HaydenTanner after spending many years in commercial real estate finance, capital markets and development. She has spent her career cultivating practical solutions and strategies to accelerate the emergence of resilient buildings and vibrant, sustainable cities.
Now she works with clients to channel investment capital to optimize asset and portfolio level returns, enhance resiliency, community vibrancy and livability while meeting economic objectives.
Sarah Benedict, Research Director
As you might expect, Sarah is a seeker and a rabble-rouser.
An environmental planner and educator with a focus on tech, geography, and GIS mapping, Sarah brings a down to earth (no pun intended) style to all of her research projects. She has deep background in environmental assessments, brownfields and watershed impacts. A skilled project manager, she keeps us on track and moving forward. Sarah has a BS in Geography & Environmental Science and not one but two Masters Degrees, one in Geography and the other in Learning Technologies.
Todd Tanner, Communications Director
When he's inside four walls, Todd manages all the communications for HT. When he's not, you can usually find him on the water or in the woods.
"Passion. That's what it's about. That's what separates us from everyone else. We love being out on the water. It's a genetic imperative burned into our soul, it's a direct, no-detours conduit to nature, it's a subliminal, primitive urge that leads, slowly, surely, perhaps unfathomably, towards that rarest of moments when, no matter our failings or our personal limitations, we brush up against grace."
His writing has appeared via a number of respected media platforms, including Forbes, Sporting Classics, Field & Stream and Hatch Magazine.
He is also a columnist and senior editor for Sporting Classics magazine and runs Conservation Hawks, a nonprofit dedicated to passing on a healthy natural world to our kids and grand kids.
Social Media and Customer Service Specialists (Heavy emphasis on "Social")
Trusted Colleagues and Partners
James Finlay, Managing Director, SoundView Risk Advisors
Theddi Wright-Chappell, CEO, Sustainable Values
Theddi Wright Chappell, CRE, FRICS, MAI, AAPI, LEED AP, is CEO of Sustainable Values, Inc., a woman-owned business specializing in valuation consulting, due diligence, impact investing and optimizing real estate returns for her clients. The firm's emphasis is on identifying "value" in unique investment scenarios; including, but not limited to, assessing the costs and benefits, asset and portfolio value implications and upside potential related to energy efficiency and other sustainable strategies in the built environment.
Ms. Chappell's career in the valuation and consulting field has spanned more than 25 years, working with clients throughout the US and Canada, in Europe and Australasia. She is a Founding Member of the team developing the Economics of Change, a multi-year international project focused on building an appropriate analytical tool that incorporates economic, environmental and social considerations into investment, valuation and underwriting criteria. Ms. Chappell is a national and international speaker and educator on the implications of green strategies on asset value.
An avid adventure hunter and traveler, James is the managing partner of SoundView Risk Advisors - a team of free-lance commercial real estate finance consultants and appraisers involved in investment risk analysis, commercial property valuations appraisal/evaluation reviews and financing due diligence.
The group has a nationwide footprint and specializes in high performance "green" property, particularly those with distributed power like solar photovoltaic systems.
He has worked full time as a commercial real estate professional since 1987 in various roles including leasing/sales agent, investor, staff and free-lance appraiser and appraisal manager/reviewer. For almost 15 years I reviewed and managed appraisals on a wide range of commercial real estate to identify and quantify loan collateral valuation risk for Wells Fargo Bank. I was a member of the the bank's Environmental Affairs team and the primary appraisal reviewer of valuations involving LEED, Energy Star buildings and solar PV systems.